Yokohama
BluearthAE01
"Fuel- Efficient Tyre for supermini & small family car"
Key Feature:
1.) Fuel efficient: Realizing top fuel-efficient performance by improving vehicle fuel savings, making the tyres environmental friendly.
2.) Reassuring grip in the wet: Patented Orange Oil technology enhances grip performance
3.) Reduces uneven water: reduces typical uneven wear on both the inside and outside of tyres due to unique design. This helps to save resources by prolonging the life of the tyres.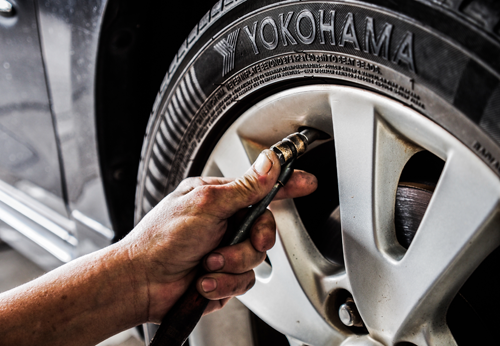 BluEarth-AAE50
"Extreme Grip with Environmental Performance"
Key feature:
1.) Secure grip on rainy day- Use of double silica optimizes the compounding ratio to achieve both superb wet & fuel efficient performance
2.) Quietness for comfortable ride
3.) Total balanced performance- AERO dynamic technology reduces air resistanceAdvan dB V551
"The power of Silence"
Key Feature:
1.) Silence, stable maneuverability and extra smooth driving comfort for a high degree of balance
2.) Lower rolling resistance
3.) Greater wet performance- Microsilica makes the rubber compound more flexible, enhancing adhesion to the road at micro level
Advan Sport V105
"Superb Performance Street Tyre"
Key Feature:
1.) Handles precisely as intended- Matrix body ply structure enhances steering stability; Mound profile enhances steering stability
2.) Strong Grip Performance- powerful grip in the dry and outstanding hydroplaning resistance
3.) A quiet and comfortable ride- reduces external rolling noise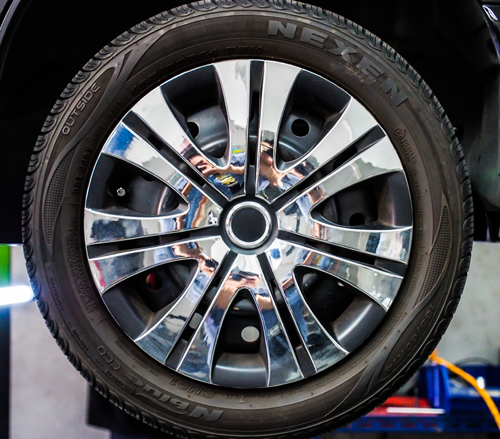 Geolandar SUV G055
"Dynamic in comfort and silence"
Key Feature:
1.) Fuel efficient profile that maximizes uneven wear
2.) High-rigidity profile enabling exceptional handling performance. The high rigidity enables superior handling and peace-of-mind at high speeds
3.) Orange oil compound provides reassuring grip in the wetAchilles Radial
2233
Key Features:
1.) Broad tread shoulder design and wide centre rib- Maintains stable contact during cornering and excellent straight-line stability
2.) Asymmetrical Tread Pattern- Superb cornering stability and precision steering response
3.) Strong Breaker and Cap Ply Material- Increase control of the centrifugal force and stability at high speed
4.) Wider Ribs with water channelling at shoulder – Reduced hydroplaning and better grip during wet breaking
ATR Sport/ Sport 2
Key Features:
1.) Silica Tread Compound- improves fuel efficiency and wet traction
2.) 3D Surface Block Technology- Reduces road noise for more comfortable ride
3.) Directional Tread Design- Provides good traction for wet and dry road conditions
4.) Solid Centre Rib- Delivers straight line stability to improve handling
5.) Wider ribs with water channelling at shoulder
122
Key Features:
1.) Multi-Sipe Design- For better grip on wet road conditions
2.) Stiffer Tread Area- for Straight-line tracking, improve high-speed stability and dry braking
3.) Water Channelling to the Centre Rib- Optimes water evacuation and improves contact area to reduce hydroplaning
4.) Solid Centre Rib- Delivers straight line stability to improve handling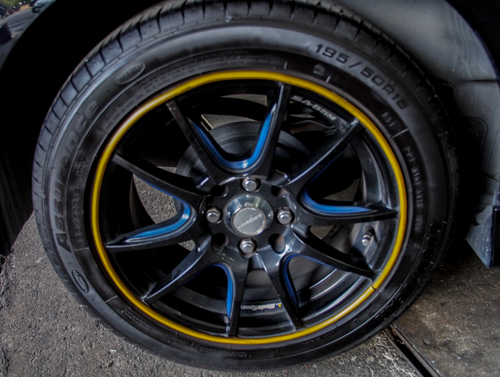 Roadstone Tire
CP672
Key Features:
1.) Comfort- The best ride quality for your smooth riding
4 wide straight grooves- improved braking performance and draining power on wet road
Crossing groove design- Reduced noise of minimized vibration and enhanced ride quality performance
2.) Silence- 5 optimum variable pitch blocks to distribute pattern noises generated at the driving moment of tyre grounding to the road surface
3.) Mileage Technology- to improve friction performance
Shoulder block equalizing design- improve inner friction and reduce vibration noise of block by the equalizing design
Wing-type edge groove- improve durability with the quick release of the heat generated in drivingN8000
Key Features:
1.) Infinite Driving- Asymmetric tread design for optimized driving power
Lateral groove of organic structure improve motive power on the dry road surface as well as on the wet road surface through streamlined cross-cutting groove design
2.) Powerful Handling- Broad Centre block for high spend driving power
Straight line improve straight driving power at high-speed driving
Asymmetric tread pattern design improve driving stability in cornering and reinforced draining at high-speed driving
3.) Comfort &Hydroplanning- Improved ride quality performance
Straight0line wide groove design- prevention of hydroplaning and reinforcement of draining applying 4 straight-line grooves
AU5
"Dependable All-Season Driving"
Key Features:
1.) Quiet and Comfortable Driving Experience- The asymmetric pattern design allows for even distribution of stress which helps to reduce vibrations and results in more comfortable ride
2.) Improved Fuel Efficiency- An enhanced compound and profile design help minimize rolling resistance (RR)
3.) High Performance Handling- Reinforced block and optimized pattern design allow for superb handling and braking performance
N Fera RU1
Key Features:
1.) Wet Grip- 4G optimized compounf technology delivers an optimized tread grip on both wet & dry surfaces
2.) Handling- Improved block stiffness and balanced construction provides excellent handling and steering stability
3.) Ride Comfort & Long Mileage- Special tread compound, flexible sidewall and optimized asymmetric pattern design delivers a refreshing ride comfort and long mileage
Neuton Tyres
NT Plus
"Quiet Comfort, exceptional Handling"
Key Features:
1.) For Wide Longitudinal Grooves- Exceptional water drainage and traction for better wet weather performance
2.) Variable pitch Sequence- Engineered to lower vibration and road noise for a quiet ride
3.) Straight Centre Rib- Maximum ground contact enhances driving safety
NT Sport 2
"Exceptional Performance, Luxury choice"
Key Features:
1.) Specially Formulated Compound & big pattern design- enhances driving control while improving cornering at high speeds; promotes hear and wear assistance
2.) High strength steel belt & Straight Lined Central Rib- Lower rolling resistance, increases fuel efficiency, enhances manoeuvrability, boosts control and reinforces driving safety
3.) Seamless protective layer, four main ribs & asymmetrical thread- offers high durability, exceptional braking capabilities and greater sporting performance. Promotes water drainage and better traction.