Day & Night Car Servicing Maintenance
Mon to Sat : 0900hrs – 2300hrs / 9am – 11pm
Sun : 1000hrs – 1600hrs / 10am – 4pm
Specifically modeled for all day-shift employee, we offer after work-hours night automotive services to ensure your automobile is taken care of without interrupting your daily work schedule.
Come after 6pm to enjoy shorter waiting time.
A.C. (Air-Conditioner) Maintenance
Imagine driving a car with malfunctioned A.C. in Singapore… absolute discomfort whether it is rain or shine. We provide A.C. Maintenances Packages to eliminate any experience as stated and prevent other automotive issues that is caused faulty A.C.
We have two different packages available:
+ Cooling Coil Changing Package
This package is inclusive of:
Replacing Cooling Coil
Vacuum
Top up and Renew Gas
Replace Compressor Oil
Replacing Air-Con Filter
Remove Dashboard
Diagnostic Check if necessary
+ Air-Con Refreshment Package
This package is inclusive of:
Checking of Air-con filter
Checking of Blower Motor
Change Air-Con Gas
Change Compressor Oil
Refresh Cooling Coil
Vacuum
Car Tyres Singapore (Indoor & Outdoor Services)
Unexpected flattened tyres situation? We've got your back! BH Auto goes the extra miles to reach you wherever you are to get those tyres fixed. If tyres replacement are required, we offer Free Towing Service to BH Auto workshop for the replacement at instant.
*Free Towing Service applicable only for services at BH Auto.
Wheel Alignment
Experience sideways veering while driving straight ahead? You need the wheels to be aligned. At BH Auto, we offer professional wheel alignment services, perfecting all alignments where the angles of the wheels are parallel to each other and perpendicular to the ground - maximizing the lifespan of your tires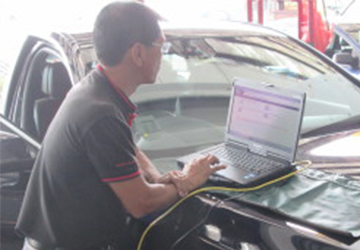 Diagnostics
BH Auto utilises original diagnostic equipment to trace automotive faults with precise accuracy and subsequently administering the necessary repairs required. With technological advancement, we efficiently reduced any unnecessary time, cost and effort incurred.
Automotive Exterior Recovery
Spray Painting/Detailing (Polishing):
Process is done with Germany's high-quality paint from MIPA and DUPONT, in a Spray Painting Booth (a controlled environment) to ensure a professional, tough durable finishing, like the day you first bought it.
Panel Beating:
A process of restoring the vehicle to its original state after an accident. In BH Auto, we utilise the GlobalJig Mobile Bench System manufactured from Australia to repair and align the damaged chassis.
Authorized Workshop for ETIQA,QBE, AXA, ECICS Insurance & TOKIO MARINE
BH Auto is authorized to provide quality Automotive Services to customer insured under the stated Insurance Companies.
Accidents Related Matters:
We do accident reporting, claims, as well as car insurance for any accident related matters.
Vehicle Pre-inspection
LTA annual inspection? BH Auto offers Pre-Inspection Services to rectify any faulty automotive issues by our team of mechanic/technician experts, ensuring you a smooth inspection journey at LTA.
Bodykits & Parts
Apart from Maintenance Services, BH Auto also work closely with established suppliers to provide quality and reliable Bodykits and Parts to all interested customers.
Car Leasing
We provide car leasing services and for more enquiries or information, please contact us at 9101 3232.
For enquiry & reservations, please contact us at
6559 8944
or send a fax to us at
6269 2404.
Alternatively, you can email your enquiries to
info@bhauto.com.sg
or visit us at
BLK 1, SIN MING INDUSTRIAL ESTATE SECTOR C #01-111/113/115/117 SINGAPORE 575636.
We are also on
FACEBOOK
and
SGCARMART
.